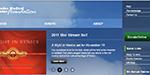 PMCF
Client: Palisades Medical Center Foundation
Services: Web/Flash design, content management
The Palisades Medical Center Foundation, a non-profit organization associated with a hospital in North Bergen, NJ, is currently transitioning from one website design to another. You can see both on the live site, with the homepage representing the new and vastly improved design.
The site incorporates standard web coding, as well as Flash and some mid-level JavaScript programming for the online donation/registration system. It is updated regularly and, upon launch, paid for itself within weeks with the success of the web-based donation functionality.
Click here to visit the Palisades Medical Center Foundation website.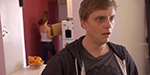 MOVED
Client: Julie Sharbutt
Services: Cinematography
The brainchild of writer/director/producer/actor Julie Sharbutt, Moved is a feature-length comedy about a woman returning to her apartment to collect her things in the aftermath of a devastating break-up. When her ex-boyfriend ambushes her there, things quickly turn ugly.
The entire movie takes place in one continuous, 90-minute shot, which required stellar performances from the camera and sound teams, in addition to a tricky lighting/technical setup. With no room for error – and a cast that took no prisoners – the production of this motion picture provided a thrilling on-set experience.
Click here to get the latest updates on Moved.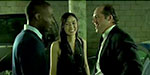 EAT L.A.
Client: Architecture Entertainment
Services: Theme song composition/production
Good Taste is a web series about two folks running a catering company for cannibals. Architecture Entertainment wanted a short theme song to use in the end credits of each episode (plus a tiny snippet at the beginning).
The theme song ("Eat L.A.") was written, performed and produced 100% in-house. E.P. Media Design created several versions of varying lengths to suit different editing options, ultimately settling on the one heard in the series.
Click here to watch Good Taste on blip.tv.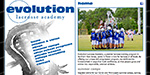 LAX
Client: Evolution Lacrosse Academy
Services: Web design, Flash design, PayPal integration
Evolution Lacrosse Academy is a training program in northern New Jersey, offering summer camps, private lessons and college recruitment prep. E.P. Media Design worked with them to create an online info portal and registration system.
The site brings Flash, HTML and accessible photography together to paint a fun, exciting picture of the sport. It also ties in marketing and social media services (Constant Contact, Facebook, etc.) to further spread the word.
Click here to visit the Evolution Lacrosse Academy website.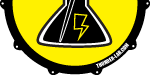 THUNDER
Client: The Thunder Lab
Services: Logo design
The Thunder Lab is a drum studio (and future home for drum lessons/clinics) in Richmond, VA. E.P. Media Design is working with the Lab to create an entire design/branding presence. A website is coming soon!
The logo combines three key elements – drums, laboratories and the concept of "lightning in a bottle" – into one instantly-recognizable design. Influenced by Cold-War-era propaganda-art, its stripped-down, leap-off-the-page pop will grace business cards, invoices, the website and more.
Click here to view the full Thunder Lab logo.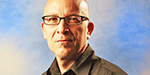 PALISADES
Client: Palisades Medical Center
Services: Portrait/exterior photography
More than 300 physicians rotate in and out of Palisades Medical Center on a regular basis. To provide easier access to medical staff information for website users, they created a searchable doctor database.
E.P. Media Design set up a photo studio (lights, camera and backdrop) in the hospital lounge for several days. Doctors who wanted their pictures included on the website came through when available. While on location, we took scores of exterior photos as well, many of which are in use on the live site.
E.P. Media Design also does content management and other image work for Palisades Medical Center.
Click here to visit the Palisades Medical Center doctor database.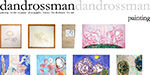 DROSSMAN
Client: Dan Drossman
Services: Web design, JavaScript
Dan Drossman is a fine artist (painting, works on paper, photography and mixed media) working out of New York City. His website is a series of galleries, which will soon incorporate an e-commerce component selling his work.
The site itself is minimalist and clean, allowing the work to speak for itself. From a design standpoint, the main attraction is a custom-made slideshow — the over-the-counter solutions proved too slow and obtrusive, so we created our own. All content is HTML and JavaScript; no Flash files or databases were used.
Click here to visit Dan Drossman's website.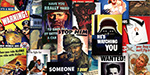 TUBES
Client: Junction Jump Productions
Services: Business plan design/production
Tubes was a feature film about a man who manually stuffed toothpaste tubes for a living getting revenge on his boss. The project was conceived from the onset as a business venture, so it had a full-fledged business plan outlining its intentions.
The full plan is over 70 pages long and was designed like a book (consistent page framing, titling/section conventions, table of contents and index, etc.). Substantial image work was required to sell the visual sense of the project. It went to print on thick, glossy paper, delivering a high-impact, magazine "wow-factor."
Click here to view an excerpt from the Tubes business plan.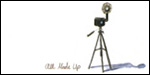 MOYER
Client: Moyer
Services: Audio production (recording/mixing/mastering)
Moyer is a piano pop band, formerly based in the NYC Metro area. All Made Up is their second album, the first to include a live drummer, with textures ranging from stripped-down, three-piece tracks to lusher, more orchestral material.
The core sound (bass, drums, keyboards) was recorded live, with vocals and other instruments layered into the mix later on. Highlights include rich vocal harmonies, melodic bass and a compressed, aggressive drum attack. The entire album was recorded, mixed and mastered digitally in Pro Tools.
Click here to sample All Made Up on iTunes.
INK
Client: David Medina
Services: Blog reskinning, web/Flash design
David Medina is an author, poet and photographer from Brooklyn, NY. His website centers around his blog but also includes his bio, résumé and portfolio. An active blogger, David creates more than 1,000 posts each year.
E.P. Media Design reskinned a Blogger (Google) blog with a fresh, urban design. Because of the site-architecture limits of Blogger, we created a stand-alone website, using the same visual template, and integrated the blog into it.
Click here to visit the MedinaInk website.
Want to see more? E.P. Media Design has many other portfolio pieces available upon request. Contact us for more information about projects like yours!